Die Sommerangebote gehen weiter und Total Digital bekommt Neuzugänge
Die zweite Woche der PlayStation Store Sommerangebote ist eingeläutet! Mit bis zu 60% Rabatt auf ausgewählte PS4, PS3 und PS Vita-Spiele könnt ihr euch Top-Titel zu niedrigen Preisen holen! Außerdem findet ihr weiter unten jede Menge neue Angebote im Zuge der Total Digital-Aktion.
Große Namen wie FIFA 16, The Witcher 3: Wild Hunt, Uncharted: The Nathan Drake Collection, Need for Speed und viele andere sind im Abverkauf erhältlich, also schaut gleich in den PlayStation Store und entdeckt euer nächstes Abenteuer für den Sommer!
Unten findet ihr eine kleine Erinnerung daran, was es alles in den Sommerangeboten gibt!
Heiß, heißer, Gewinnspielsommer!
Dass euch im Sommer heiß ist, dagegen können wir leider nichts unternehmen, aber wenn ihr schon schwitzt, dann soll es sich wenigstens auszahlen! Deshalb starten wir mit den Sommerangeboten auch ein richtig heißes Gewinnspiel, beim dem ihr jeden Tag(!) die Chance erhaltet, 20 € Store-Guthaben einzusacken!
Was ihr dazu tun müsst? Folgt diesen drei Schritten: [FOLGT UNS AUF TWITTER] > [RETWEETET DEN AKTUELLEN GEWINNSPIEL-TWEET] > [DRÜCKT DIE DAUMEN]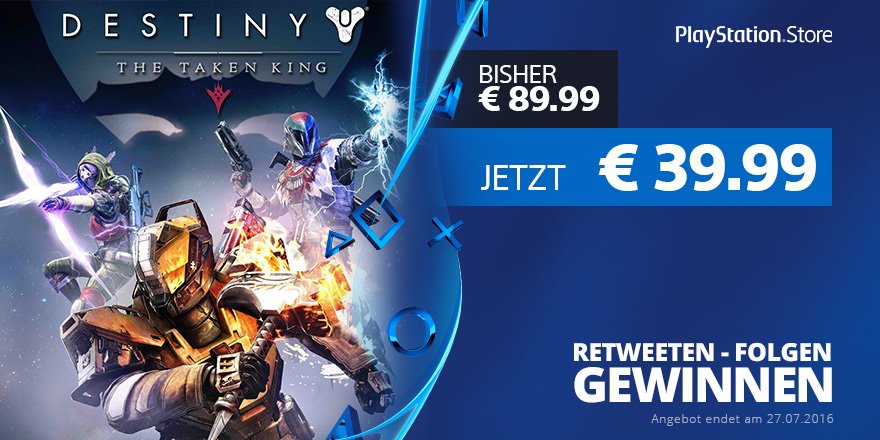 Die Teilnahmebedinungen findet ihr HIER. Der Rechtsweg ist wie immer ausgeschlossen.
Sommerangebote (bis 10.08.2016)
FAR CRY 4 + FAR CRY PRIMAL BUNDLE
Sommerangebote (bis 17.08.2016)
Sommerangebote (bis 24.08.2016)
*Einige Titel sind nur für begrenzte Zeit verbilligt oder in eurer Region eventuell nicht verfügbar
Unser Total Digital-Event ist bereits zur Hälfte vorüber und wir nutzen die Gelegenheit, um ein paar neue Titel hinzuzufügen!
Day of the Tentacle Remastered, Shadow Complex Remastered, Super Meat Boy, The Park und Unravel sind nur ein paar der hervorragenden digitalen und Indie-Spiele, die sich hinzugesellen, mit bis zu 50% Rabatt!
Und wieder ist eine Auswahl an neuen digitalen und Indie-Games zur preisreduzierten Vorbestellung erhältlich, in etwa Bound, Brut@l und Valley. Neue Vorbesteller-Titel werden im Laufe der Total Digital-Aktion noch hinzugefügt, also vergesst nicht, immer wieder mal reinzuschaun.
Als ob das nicht schon genug wäre, erhalten PlayStation Plus-Mitglieder nun einen extra-Rabatt auf ausgewählte Total Digital-Titel. Holt euch noch heute eure PS Plus-Mitgliedschaft!!
Hier ist ein Blick auf das komplette Total Digital-Update!
*Einige Titel sind in eurer Region eventuell nicht verfügbar