Hellt euren Sommer mit Rabatten bis zu 60% auf eine Vielzahl an Spielen und Erweiterungen auf
Die heißeste Zeit des Jahres ist mal wieder hier… die PlayStation Store Sommerangebote gehen an den Start!
Unsere vierwöchigen Sommerangebote bringen euch eine umfangreiche Auswahl* an großartigen Titeln für PS4, PS3 und PS Vita. Ihr könnt während diesen vier Wochen bei ausgewählten Spielen bis zu 60% sparen, allerdings sind ein paar davon nur in bestimmten Ländern und in einem limitierten Zeitraum im Angebot, also geht sicher, dass ihr nichts verpasst.
Mit Top-Titeln wie FIFA 16, The Witcher 3: Wild Hunt, Just Cause 3, Far Cry Primal, The Heavy Rain™ & BEYOND: Two Souls™ Collection und vielen, vielen mehr gibt es diesen Sommer wirklich für jeden etwas.
Es gibt Vieles zu entdecken, also werft gleich einen Blick auf die PlayStation Store Sommerangebote-Seite um alle regionalen Preise zu sehen, oder seht euch unten die komplette Liste der Angebote an. Der Sommer ist mit dem PlayStation Store gerade noch ein bisschen heißer geworden!
Heiß, heißer, Gewinnspielsommer!
Dass euch im Sommer heiß ist, dagegen können wir leider nichts unternehmen, aber wenn ihr schon schwitzt, dann soll es sich wenigstens auszahlen! Deshalb starten wir mit den Sommerangeboten auch ein richtig heißes Gewinnspiel, beim dem ihr jeden Tag(!) die Chance erhaltet, 20 € Store-Guthaben einzusacken!
Was ihr dazu tun müsst? Folgt diesen drei Schritten: [FOLGT UNS AUF TWITTER] > [RETWEETET DEN AKTUELLEN GEWINNSPIEL-TWEET] > [DRÜCKT DIE DAUMEN]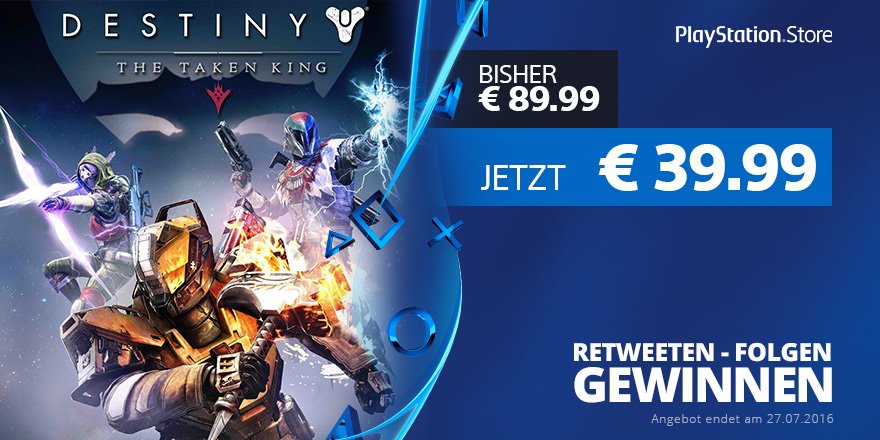 Die Teilnahmebedinungen findet ihr HIER. Der Rechtsweg ist wie immer ausgeschlossen.
Verfügbar von 27.07.2016 – 10.08.2016
FAR CRY 4 + FAR CRY PRIMAL BUNDLE
Verfügbar von 27.07.2016 – 17.08.2016
Verfügbar von 27.07.2016 – 24.08.2016
*Einige Titel sind in eurer Region eventuell nicht verfügbar.