Holt euch From Softwares beliebtes Action-RPG und vieles mehr zum Schnäppchenpreis
Jage deine Albträume mit dem Angebot der Woche: Bloodborne: Game of the Year Edition!
Ein einsamer Wanderer. Eine verfluchte Stadt. Ein tödliches Geheimnis, das alles schluckt, das es berührt. Ladet euch heute From Softwares extraordinäres Action-RPG für PS4 herunter.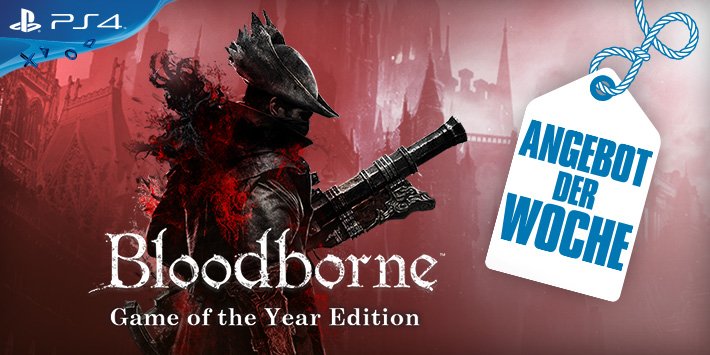 Unsere Mai-Wahnsinn-Aktion läuft noch eine weitere Woche, bis 1. Juni, wobei es einen Rabatt von bis zu 50% auf ausgewählte Titel im PlayStation Store gibt. Verpasst nicht eure Chance auf Spiele wie The Witcher 3: Wild Hunt, The Elder Scrolls Online: Tamriel Unlimited, Mortal Kombat XL, Grand Theft Auto V und viele andere zum verbilligten Preis.
Seht euch zur Erinnerung hier noch einmal alle Titel an, die es gibt, und begebt euch zur Mai-Wahnsinn-Seite des PlayStation Store für lokale Preisinformationen.
*Einige Titel sind eventuell in eurer Region nicht verfügbar.
Bis 1. Juni laufen auch wieder neue digitale Rabatte! Preisinformationen findet ihr im PlayStation Store, aber hier ein Blick auf alle Spiele unter den Angeboten:
Four Kings Casino: All-In Starter Pack
Weitere Angebote im PlayStation Store
Zu guter Letzt haben wir eine Auswahl an PS3 und PS Vita-Titeln im Angebot. Seht euch unten die komplette Liste an und klickt euch durch die Angebote für Preisinfos.
Grand Theft Auto IV The Complete Edition